West Park
It is a fine example of a Victorian municipal park and was one of the best in the country to set a trend for the provision of areas for specific sporting activities (originally bowls, archery and cricket). The park is considered to be one of the best, unspoilt examples of a Victorian park left in England and is Wolverhampton's premier open space.
The park is 17 hectares (roughly 43 acres) in area (including its lake) and provides a beautifully landscaped green space within a ten minute walk of Wolverhampton city centre. 
Wolverhampton City Show
West Park plays host to the annual City show. The event attracts audiences from around Wolverhampton and afar. Lots to see with fair ground rides and information stalls over the weekend usually around the beginning of July.
Location
West Park
Park Road West
Wolverhampton
WV1 4PH
Opening hours
Facilities and attractions
picnics
tennis courts
chalet tearooms
boating lake
children's play area
bowling green (located in Park Crescent)
disabled access
heated Victorian conservatory open 10am to 4pm daily (closed Tuesday and Wednesday)
History
The site chosen for the first of the large parks in Wolverhampton was the Race Course, or Broad Meadows, owned by the Duke of Cleveland. On 12th March 1879, Alderman Samuel Dickonson, invited landscape gardeners to compete for the layout of the park. The winner of the £50 prize was Richard Hartland Vertegans of Chad Valley Nurseries, Edgbaston, Birmingham.This was several years before Vertegans designed Victoria Park, Handsworth, Birmingham. The remit from the council included:

The park was opened on 6 June 1881 by the Mayor of Wolverhampton, Alderman John Jones.


The conservatory was opened in July 1896 by the widow of former Mayor Alderman
Samuel Dickinson. Built at a cost of £1,500, it had been funded by the 1893 Floral Fête, one of a series of annual fêtes held between 1889 and 1939.
The bandstand was presented by the town's long serving M.P., Rt. Hon. Charles Pelham Villiers, on 29th May 1882. Now Grade II listed, it was restored in 2002 at a cost of £70,000.
The Standing Stones

During Neolithic times, our ancestors were moving huge chunks of rock around the country. The reason that they did it has been lost to antiquity, but the theories abound. These standing stones could have marked meeting places or graves; or they could have been territorial markers. The circular henges (think Stonehenge or Avebury) might have been huge calendars or ceremonial areas. The first 'churches' of all. The long and short of it is that we don't know. 
There were people in and around the Wolverhampton area during the Neolithic. We know this because they brought megaliths here. A community would have had to come together to do it, because one person can't shift these standing stones on their own.
The first to arrive wasn't carried here by human engineering. A wild river once deposited all that 'Bunter' sandstone into our bedrock. The melting of the ice age might have caused that. As mile-high walls of ice dripped into thawing, mighty rivers were

formed. One of them was strong enough to carve a massive monolith of felsite, from the vicinity of Arenig, Gwynedd. Imagine the force of nature necessary to carry that, all the way from west Wales, to where Oak Street, in Wolverhampton, is now.

This standing stone is no longer in Oak Street. Wulfrunians belatedly got involved in moving it, in 1881, when they carted it off to West Park. It can be seen below with a little plaque on it, placing Arenig in its old county name of Merionethshire.
The Clock Tower
The decorative cast iron square case clock tower was presented to the town in 1883. The clock case has dial on each of 4 sides and is surmounted by iron brattishing and corona.
Grade: II
Date Listed: 3 February 1977
English Heritage Building ID: 378643
Clock tower. 1883. Cast-iron on ashlar plinth. Battered plinth has moulded base and cap; cast-iron column and 4 slender colonettes support square-case clock with 4 faces; cornice and openwork corona. Restorated 1990-91. West Park was laid out by
V.H. Vertegans, 1879-81, on the site of Broad Meadows race course.
Charles Pelham Villiers Statue
The longest-ever serving member of parliament was from Wolverhampton: Charles Pelham Villiers represented the town for over sixty years.
Member of the Whig Party
From 1835-1885, Charles Villiers was MP for the single constituency of Wolverhampton and then from 1885 until his death in 1898 as MP for Wolverhampton South (Bilston).
Villiers stood for election for the Whig Party in Wolverhampton in January 1835. Having won that contest he was re-elected in 1837
Villiers campaigned hard for free trade, meeting with success in 1846 when the Corn Laws were repealed. The Cobden Club called Villiers the 'Father of Free Trade' at a celebration of fifty years of free trade in 1896.
In 1879 his statue was erected at Snow Hill although in 1931 it was removed to West Park. The bandstand in West Park was also named after him.
As well as being a member of parliament, Villiers served as a commissioner to the Royal Commission, enquiring into the operation of the Poor Law. From 1859 until 1866 he served as President of the Poor Law Board.
He was known as the 'Father of the House of Commons' from 1890 until his death in January 1898.
He is buried in plot no. 36848/140/PS at London's Kensal Green Cemetery.
Charles Pelham Villiers
Born: January 3, 1802, London
Died: January 16, 1898
Education: St John's College, Cambridge, East India Company College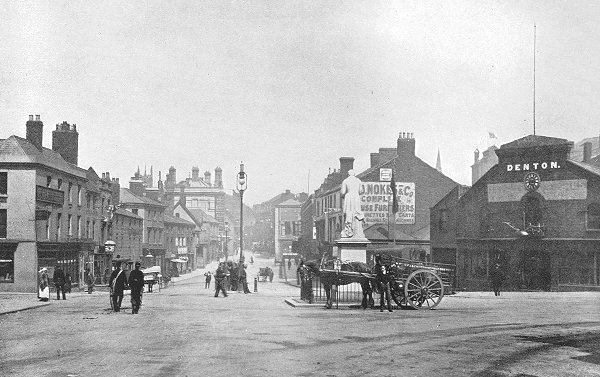 MP Charles Pelham Villiers Statue previous location 
Looking along Snow Hill towards Dudley Street, where the Wulfrun Centre now stands.
The large statue which now stands in West Park commemorates the life and achievements of  local MP Charles Pelham Villiers
West Park Iron Bridge 
Bridge over Lake: 1880.  Cast iron with ashlar abutments and piers. 
(listed Grade II) of 1880 designed by the Borough Engineer and built by Messrs. Bradney and Co. 
1902 Arts and Industrial Exhibition
The largest and most ambitious exhibition held in Wolverhampton was the 1902 Arts and Industrial Exhibition which was sited in West Park. Although housing only one international pavilion, from Canada, the scope and scale of the exhibition mirrored all the advances in other exhibitions of its time. The exhibition site featured several large halls housing machinery, industrial products, a concert hall, two bandstands, a restaurant, and a fun fair with thrill rides and a water chute. Its opening, by the Duke of Connaught, was received with hopeful enthusiasm, unfortunately not matched by the weather, which contributed to a £30,000 loss, equivalent to nearly £2M at today's value.
In 1911 commemorative flower beds were set out for the coronation of King George V; similarly in 1937 for King George VI. During World War I ducks and rabbits were raised, and vegetables grown, to aid the war effort. In 1942 the park was turned into allotments and the normal closing time was extended to allow for the extra work involved. The park was placed on the Heritage National Register of Parks and Gardens of Special Historic Interest in 1986. A grant was received from the Heritage Lottery Fund in 2005 to refurbish the tea room.